Joined

Nov 10, 2010
Messages

29,472
Location
Well it started out good. Got my little section of public land to myself. Lots of gobbles and birds but they were staying in a field that was private land. Sometimes a bird or two would come in the woods but never close.
Well they had drifted away to the left by 9-something in the morning. So I snuck up around and ended up walking up on all the birds. Hens, jakes and toms. That's where it went bad...
I shot and missed a longbeard when I snuck up on them. I walked up and no dead bird, and there were two toms hanging around near the edge of the woods. They couldn't decide where to go and kept going back and forth. I finally took the chance and popped a shot, and missed again. I watched the bird fly away and then started walking back, feeling like I should have just slept in, instead of ruining my opening morning hunt.
So I decided to check my other spot for birds just down the road. I was on my way back to the truck, and heard a bird gobbling. Sounded far off, and I almost passed it up. Hit the call a few times and went into the woods toward the source. As I came closer to the river, I could clearly tell he was on my side and close by.
I set up on him and saw him walk by maybe 50-60 yd away, and he was out of sight gobbling for a while. I couldn't see him because I was in a sort of thicket in between cedars and open hardwoods. I'd glimpse him now and then and he would gobble often, but he was hung up. I called sparingly a few times, and repositioned myself 5 yards at a time twice, hoping to get a better view.
Finally the bird couldn't take it anymore, and came slowly but surely into range, spitting and looking for the source of my calls, while I was trying to see his head clearly through the thicket. I'm not sure how it turned out on camera yet because of the dense trees.
I got my chance and dropped him dead just after 11 am.... 25 yards
First opening morning turkey, and I got the whole hunt on video.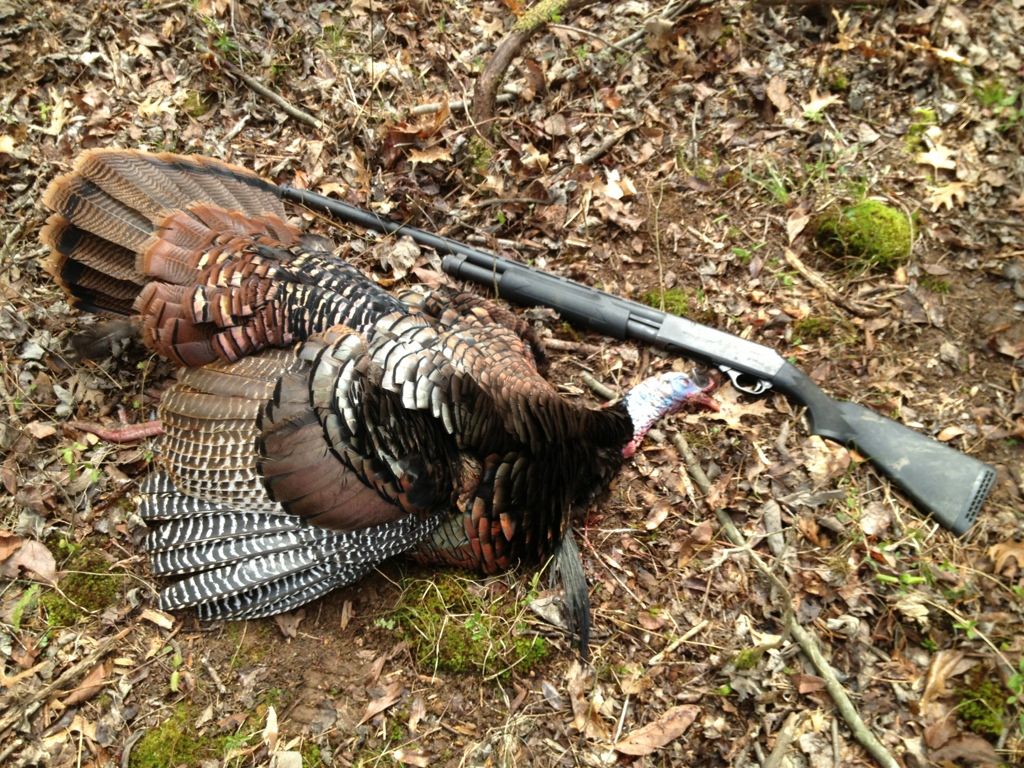 22 lbs 3 oz 10.25" beard 1" and 7/8" spurs
Called him with only my tube call, had an old mouth call for backup and didn't use it.
Got to thank The Lord for answering prayers and giving me an awesome hunt.