Went to Martin today and did a little fishing.
I was using my ultralight with a Strike King "Bitsy Minnow" in the crawfish color.
For colored / murkey water this is my favorite color. I lost the only one I had the other day so I went and bought TWO of them so I would always have one.
I caught a bass on about the third cast.
Then on my fourth I hung a good fish and got it all the way to the bank.
It was a crappie and I swear I bet it would have weighed very close to 2 pounds.
Alas, it is just the "one that got away" though.
I moved to another spot to kinda get out of the massive wind.
I started whackin them pretty good then.
After I caught 4 or 5 I decided to cut the lure off and re-tie to make sure I didn't break off since I was using 6 pound test.
On my very next cast I got a bite and set the hook.
Broke clean off and there goes my first lure.
I stood there and couldn't believe it but tied on my extra one that I bought.
VERY next cast, bite, hook set, broke line.
I had my bait caster with me so I found a crawfish colored crankbait.
This is where it really got strange.
Ever heard the expression "rip their lips off" ?
On about my third cast I got a bite and set the hook.
I missed the fish but when I reeled it in I saw some "grass" on the hook.
Raised it up to clean it off and this is what I saw.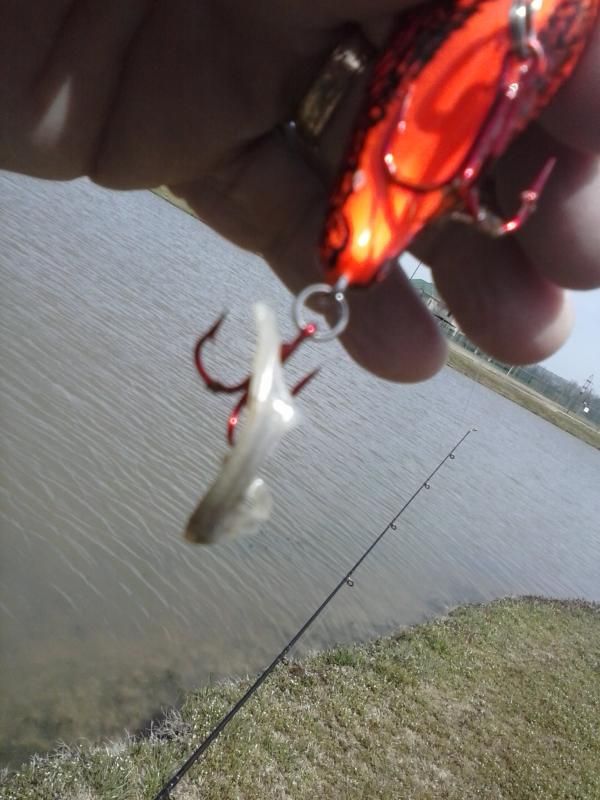 The fish's entire upper lip was attached.
Finally tried a yellow rooster tail and they decided they liked that color.
Ended up with 18 bass and 1 trout.
Every bass was between a pound and a pound and a half, minus two.
One was considerably smaller and one was pushing 2 pounds. ( all weights estimated)
After I threw my 4th fish back a guy from across the "lake" hollered and told me to quit throwing all them fish back, he was on the way with his basket.
I gave him the next 7 bass I caught and he left with supper.
Pretty good day.
Oh and went to walmart tonight and got me 3 more lures.