Just wanted to invite everyone to our shoot Sept 8th at Eagle's Wings Archery in Lenoir City.
We have over $1000.00 in prizes to be given away,
TO INCLUDE A WHISPER CREEK BOW!

Contact info:
Todd Smelser(Bohunter2001) 865-389-5771
Jackie Thomas(spctbone) 865-435-5872
Should be a really great time.
TELL ALL YOUR FRIENDS!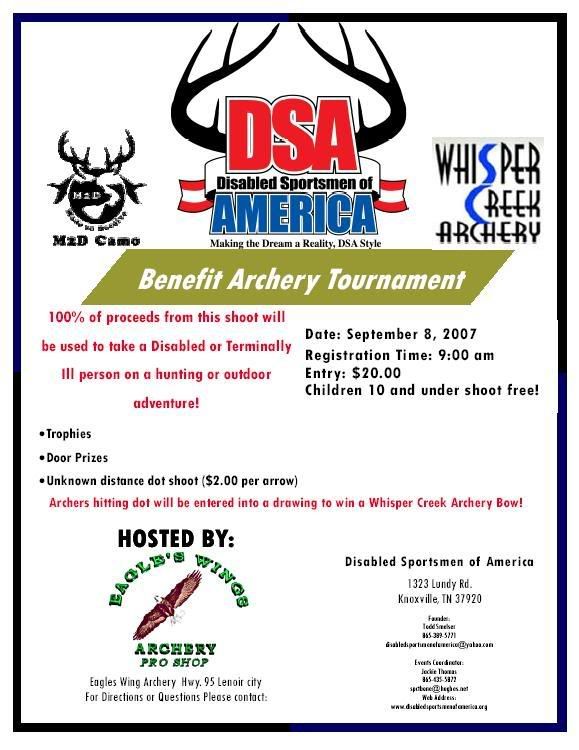 We will also be "Paying it forward" to a TnDeer.com Member at the Tourney!

Please Note:
There was a misunderstanding concerning crossbows at his shoot. Eagle's Wings Acrhery DOES allow crossbows at their range, but the targets at the range does not stop the crossbow bolts as well as the regular arrows. Several people have shot there and have substained damage to the bolts fletching.

If you want to bring your crossbow and enter a crossbow only class, please feel free to bring it, at your own risk. IF there are more than 5 people who show up with a crossbow we will have a crossbow class shoot in the tourney.



Please understand that this was a misunderstanding, and in no way was DSA not including the crossbow comunity.



We are also planning a Crossbow unknown disatance dot shoot at this tourney. $2.00 per bolt, hit the dot and be entered to win 50% of the funds raised from the Crossbow dot shoot.

If you have any questions or comments please contact the DSA Event Coordinator/Jackie Thomas at 865-435-5872 or jackie@disabledsportsmenofamerica.org


Thank you for your understanding

_________________________

WARNING

....MY SENSE OF HUMOR MAY HURT YOUR FEELINGS! I SUGGEST YOU GET OVER IT!
Biggest Loser Team
T2
!