tickweed
12 Point


Registered: 11/25/09
Posts: 5070
Loc: medon,Tn.


| | |
| --- | --- |
| | Offline |
Well, its took a few days ,but I have finally got time to post the results of our Colorado Elk bow hunt. This was my fifteenth trip to Colorado hunting Elk, our second year to bow hunt. I took two young guys, well, younger than me, and we arrived in Glenwood Springs on Wed. evening after a long twenty four hour drive. We spent the nite in a motel and headed out before daylight the next morning to drive the last eighty miles to the base of the mountain. We arrived just as the Sun began to come up. We unloaded all our gear and then began the six mile pack on our ATVs to base camp. It took two trips each to get everything up to camp, and we had everything set up by late evening. We hiked behind camp before dark and sat at a high point to see if we could hear any Elk or glass any on the slides two miles across the rim. No luck. The following morning I was back on the same spot before daylite, and as the Sun begin to rise, I spotted a lone cow at over a mile as she slipped higher into the scrub oak. Ive sat on this same point for years, and have seen dozens of Elk ease back into the oak to bed, but not this year. Ive found in Elk hunting its much better to do lots of glassing from long distances and find the Elk instead of just wandering around blind and spooking them. None of the other guys where having any luck getting on the Elk either. The next few days where about the same. The weather had been nice, with highs in the seventys, lows in the fortys, but Sunday it started to cloud up. That nite, around dark it began to rain, with the temps dropping, and I knew what was about to happen. Within the hour the rain turned to large wet flakes, and within minutes the ground became covered. As we went to bed in our wall tent we decided to take shifts getting up and shaking the snow off the roof. So much for that idea. As we lay asleep in our cots, around 2 a.m. we heard a loud pop, and the rear of the tent collapsed under the weight of the snow. One of the main tent poles broke, and we had to get up, get the excess snow off the tent, and put a splint on the pole. This made for a short nite. The next morning I decided to take the younger guy in our group with me. As we where walking in at first lite, we stopped in the newly fallen snow, and all of a sudden my friend said Elk. I looked down at about 100yds on the lower shelf, and could see a large cow looking towards us. We remained motionless, and she began to feed. I told him to nock an arrow and he eased up against an aspen. I took out my call, and mewed twice. She looked straight in our direction, and then she started a fast walk up the slope straight to us. As she got closer, she went into a large dip, and disappeared. All of a sudeen she poped up not 25yds right in front of us, and she saw us, and whirled and ran. I called to her, and she stopped broadside at 50 yds.,and my friend was at full draw. He asked me the yardage, I said fifty, and he released. The arrow looked great, but at the last second fell just under and behind the Cows front leg. Oh well, almost some meat. We hunted the rest of the day, no luck but did later that evening begin to find more and more fresh Elk sign. I decided the next morning to move even deeper into the canyon, thinking maybe the Elk could be silent, and in the tougher terrain due to pressure. As I slipped deeper into the cover the next morning, I began to find lots of fresh tracks and Elk droppings. I found a shelf with a good trail, and made me a nice blind to do some cow talk from. As I checked the wind, I began to call, mewing softly, then loudly. About thirty minutes had went by, and I had just finished a series of calls, when I heard limbs breaking to my right around the shelf. Elk! I have heard this sound lots of times, and I turned to get into position. I looked towards the direction of the noise, and all of a sudden I could see antlers coming thru the undergrowth. The Bill stopped at about seventy yds., looking for the Cow he had heard. He started to walk away, and I mewed at him loudly. He turned back towards me, and started back down the trail, coming straight to me. I hugged up behind the Aspen I was beside, and as he hit fifty yds he went behind some cover and I drew my bow. He continued coming and at forty yds. he stopped, and the turned to his right, took a couple of steps, and stopped. I settled the forty yd. pin just behind his shoulder, and touched the release. The arrow flight was perfect, taking just a second to cover the ground to the Bulls side. As the Slicktrick mag. found its mark he let out a lond grunt and whirled to run. I started calling, and he ran about 50 yds back down the trail he had came down, and then he stopped. I kept calling, and he stood looking for the Cow he couldn't find, and as he stood there I could see the fletching of my arrow just behind his left shoulder. All of a sudden, I seen him began to lean from side to side, and I knew it was about over. He slowly sink to the ground, and I said a small prayer, Thanks God. He was a nice 5x4, maybe 700lbs. Just an average public land Bull in Colorado, but lots of meat. Took us all day to pack him out on pack frames, and we got the last quarter out as darkness fell. The other guys continued to hunt, seeing cows and one called up a bugleing Bull, but he was only a 3x3. We headed down Wed. night, and headed home the following morning. Ive seen yrs. we where on many more Elk, but still had a great time. Sorry for the long post. Good luck to all.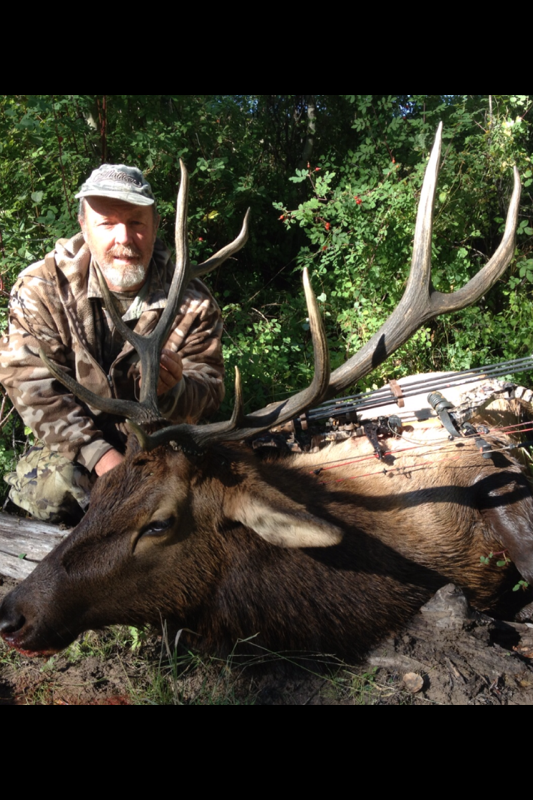 _________________________
The hardest thing about Bowhunting Turkeys is leaving the gun at home!