Finally got the monkey off my back this morning. Been on this guy a few times and he has whipped my tail every time. I was hoping my son could get him and thought it was going to happen Sunday afternoon. Long story short he gobbled nonstop for two hours. We moved several times only to watch him go right past where we had just previously left one time. Talk about pouring salt into the wound. So this morning I head over to hunt before work and am walking in trying to decide where to set up and he gobbles. I look at my watch and its 5:15. I stop and wait until he gobbles again and realize I had just walked within 50 yards of him. He was roosted in a spot I've never seen them roost. I eased back through a small pocket of woods and set a hen decoy just on the edge of an opening under a big cedar. I sat down and made a few soft yelps and he cut me off. When it got a little lighter i grabbed my wing and did a couple of fly downs and then one more soft yelp before shutting up. Finally I saw him in the tree and he has now gobbled for 30 minutes. He pitched down to my right which is not what I wanted. He hit the ground and gobbled and i think the ground shook. He eased back my way and when he got behind a bush I shifted to the right. He started bobbing his head back and forth and I think he saw the decoy. Then he gobbled again. I'm thinking come on a few more steps when all of a sudden he putted three times and turned away. He may have gone two steps and I let the 835 eat. Those 3 1/2" magblends hit him in the head and down be went. A couple of wing flaps and he was done. I looked down at my watch and it was 5:52. Picked up my range finder and he was 38 yards away. Now the rest of the season will be focused on getting my son his second one ever.

19 lbs 5 oz
10 1/4" beard
7/8" spurs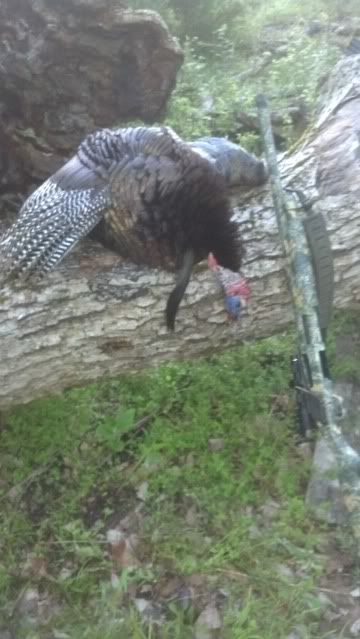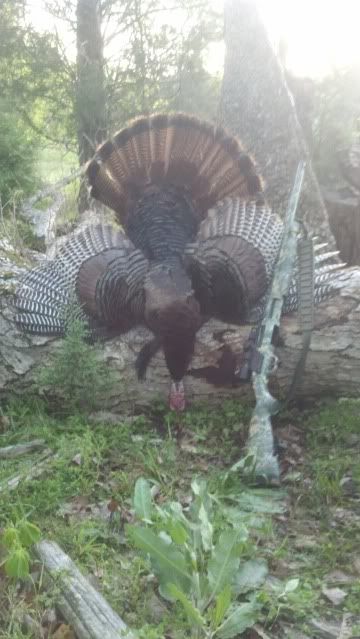 _________________________
If it ain't broke, don't fix it.