of this spring!!! It's a long read but I hope you enjoy it as much as I did.

I haven't had much time for myself in the woods this season.... Spent the first two weekends of season helping some good friends/neighbors move at the last minute. Then I wanted to concentrate on getting the Mrs. a bird first.... Well after that I went a time or two but things just weren't really prime just yet or the bird was playing hard to get.

Today all that changed for me. Been watching these birds on the WMA as I drive to and from work since 2 weeks before youth season. Up until this week their sightings were far between... maybe once every couple weeks and on different days of the week so it was no pattern to their travel pattern.

Since the warm weather began over the weekend.... first thing Monday morning I see the twins doing their thing with the ladies. So I watch every morning and every afternoon (when possible) on the drive. Well I made a plan for this morning....

Was up at 3am and walking away from the truck at 4:30am..... Get a hen decoy set out in the area I see them strutting regularly in this field along the highway. Walk on over to the woodline then cut the bushes and honeysuckle back to make a little hiding spot. With the full moon and low traffic noise of the nearby highway I hear some gobbles in the distance back behind me. I am praying they make the trip to the field as usual but am second guessing often.

Daylight comes and the traffic on the highway picks up almost drowning out everything else. I have not made a single sound on my calls as I am observing only to see what will happen. All of a sudden there is a break in the traffic and I see a hawk flying towards me from right out front.... he screams and a thunderous gobble comes from over my right shoulder... I am sitting in a corner where the woods jut out int this field.

This bird gobbles a few more times and I decide it's time to let him know there is a lonely hen over here looking for love. I make several excited yelps and he cuts me off each time with a gobble. I can't see him through the corner just yet because it's so thick... but I can tell he is going back and forth. So I give him a couple of yelps and my own spit-n-drum call.... he cuts that off with a triple gobble and then some. I do it again and then yelp. A few second later I can hear him spitting and drumming and he is closing the distance.

I spin 90 degrees in my gobbler lounger to get ready for his arrival. Finally I can start to see him through the corner brush.... fanned out with a bright red, white, & blue head. I ease the safety off and wait for the shot.... At 10 steps he passes in front of me. I don't know if he saw me lean my face to the stock or what but he just all of a sudden spooked. He took a few nervous steps and I decided the time was now. About the time I pulled the trigger he ducked his head forward and I missed... He took a few steps and was airborne.

I quickly gathered my concentration and put the wingshooting deadeye mode on and at about 12' off the ground and 30 yards his head was mauled by my special 3.5" 2.5oz Hevi-13 #6's. He tumbled down and I was in awe.... watched him flop a minute or so and pinched myself to make sure what I had just witnessed had really happened.

I don't know if it's just my luck or my hunting, but it seems more often then not, our turkey hunting adventures are not your normal/typical hunts.

23lbs, 3ozs
11 1/8" beard
1 1/4" & 1 5/16" HOOKED spurs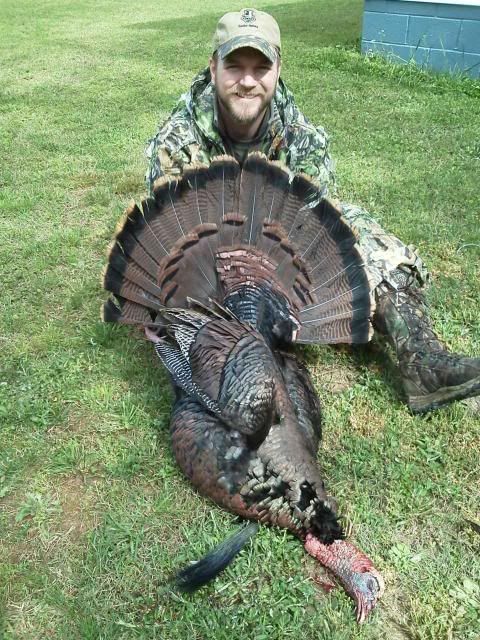 _________________________
But if thou do that which is evil, be afraid; for he beareth not the sword in vain: for he is the minister of God, a revenger to execute wrath upon him that doeth evil.