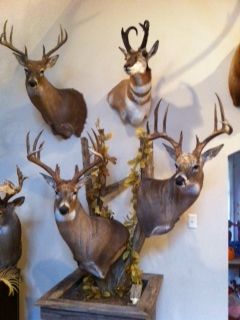 Got my pedestal finished. This was wood from an old barn that was on a farm I hunted for 35 years. The owner died, and the farm sold. The new owner took a dozer, and pushed it down. This is all the original wood that is left. The deer on the right is my Reelfoot gun kill taken this year, almost 155 inchs, and the one on the left is a bow kill from 09, around 152. This pic of the deer on the right doesnt do him justice. His 3s are around 12 inchs.

Edited by tickweed (

03/02/13

04:25 PM

)

_________________________
The hardest thing about Bowhunting Turkeys is leaving the gun at home!