catman529
spiderboy
16 Point


Registered: 11/10/10
Posts: 17592
Loc: Franklin TN


| | |
| --- | --- |
| | Offline |
Not going to make too long a long post except for the kill pics, I will let the video tell most of the story. First I will share the important details of the season, and the pics, and then the video, which is 19 minutes, it's a bit long but I think it turned out all right.

When deer season first opened in Sept. it was my 2nd season to hunt solo, only about 2 years after I took up an interest in deer hunting. I had killed my first deer ever the year before (2011) on gun opener on public land, but that was the only deer I managed to kill. So for this season, I thought I might kill one or two, and really didn't set any expectations or get my hopes up for anything, I just went and hunted. I got to hunt plenty of times, especially mornings, since I mainly worked evenings. Throughout the season, I bow hunted some private land in Williamson co, bow and gun hunted Yanahli WMA in Maury, fall turkey hunted Yanahli as well, turkey and deer hunted a buddy (eyeseeker's) property in Hickman, and gun hunted my 2 draw hunts at Williamsport in Maury. I also climbed a tree in my backyard a couple of times. Only place I didn't kill anything was in Hickman and it was just bad luck I guess, but I did let a young 6 pt walk there.

I kind of expected to kill a few turkeys, but didn't expect to kill half the deer I did. I tagged out in Maury with the birds (6 of them) and killed 10 deer total for the season.

All 6 of my turkeys came from Yanahli with a 12 gauge (Pardner pump action w/ XX-full Accu-Choke and Win. Supreme high velocity 3" #5 or #6 shot).

6 of my deer came from Williamson with a bow. One of those was in my backyard and I watched her do the drunk deer wobble and expire in plain sight. I hunted with a Champion compound, Carbon Express arrows and Thunderhead 100 gr broadheads. The other 4 deer were from public land with my Marlin 336 30-30 with Tasco scope and Winchester 150 gr power point (soft tip) bullets - 2 were killed from the ground in my favorite cedar thicket in Yanahli, and 2 were killed from a tree in the last 10 minutes of shooting light on the last day of my 2nd draw hunt at Williamsport. I got some interesting comments on here when I said I was hunting 50 ft up in a black walnut tree... but it worked, both deer died where they stood when I shot.

Oh and one other thing before the pics... gotta thank a couple of members, hope I don't leave someone out. First Mudbone, he is a great guy and he fixed up my bow to shoot better and put a peep sight in and everything, and when I built my wooden treestand, he came out with some pruners to help me clear shooting lanes. 20 minutes after he left, I shot my first deer with a bow in the fresh cleared shooting lane. He came back later and helped me track my doe, which was still alive 2 hours later with a heart shot, and she jumped in the creek and died. Later in the season he hunted at my spot and killed a nice doe, and we used my boat with the trolling motor to take her down river to an access area which was a lot easier than dragging a mile out of the woods. Also thanks again to eyeseeker for letting me hunt his property in Hickman county. Wish I could have helped thin the turkeys out there, just didn't work out for me this year. Thanks SCN for giving me that old Bowriter climbing stand that was in your attic, I killed 2 bucks, a doe and a button, and a doe fawn from the stand. Made a big difference in where and how I could hunt. Also gotta thank ImThere and Nimrod, who both hunt Yanahli as well. ImThere let me set one of his ladder stands on the WMA and Nimrod helped me drag my doe out of the woods on gun opener after I set him up in the "good" spot where he saw zero, while I saw 5 deer in the cedars and killed one.
He went and killed him one that evening though, so I felt a little better. Huge thanks to Geezer for coming out to help me track my first buck the next morning, after I looked for over 7 hours with no luck. He found the buck dead by the creek within about 30 minutes. And I must thank Bowriter for giving me an affordable deal on the Champion bow after I accidentally dry fired my old one and it blew up. Hope I'm not forgetting anyone else who helped me in some way this season and as always, I wouldn't have come this far in deer hunting without the advice and generosity of people on Tndeer...

Now aren't you glad I'm not writing out all the stories of each kill, this post is long enough!

Here are the pics, and the video is at the bottom.

October 5, bow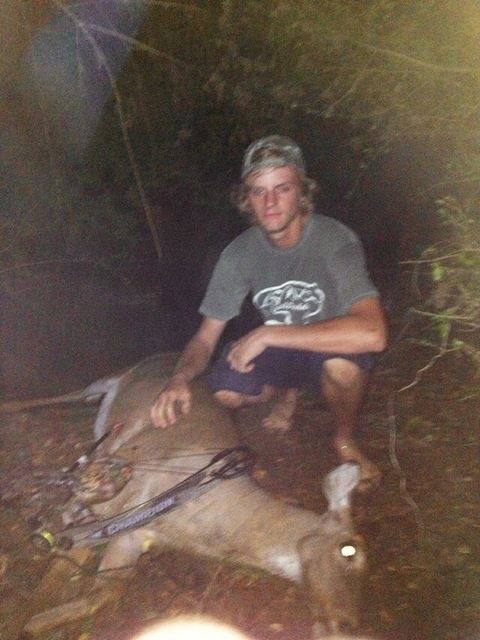 October 12, bow



October 31, bow



November 5, recovered on the 6th, bow



November 16, bow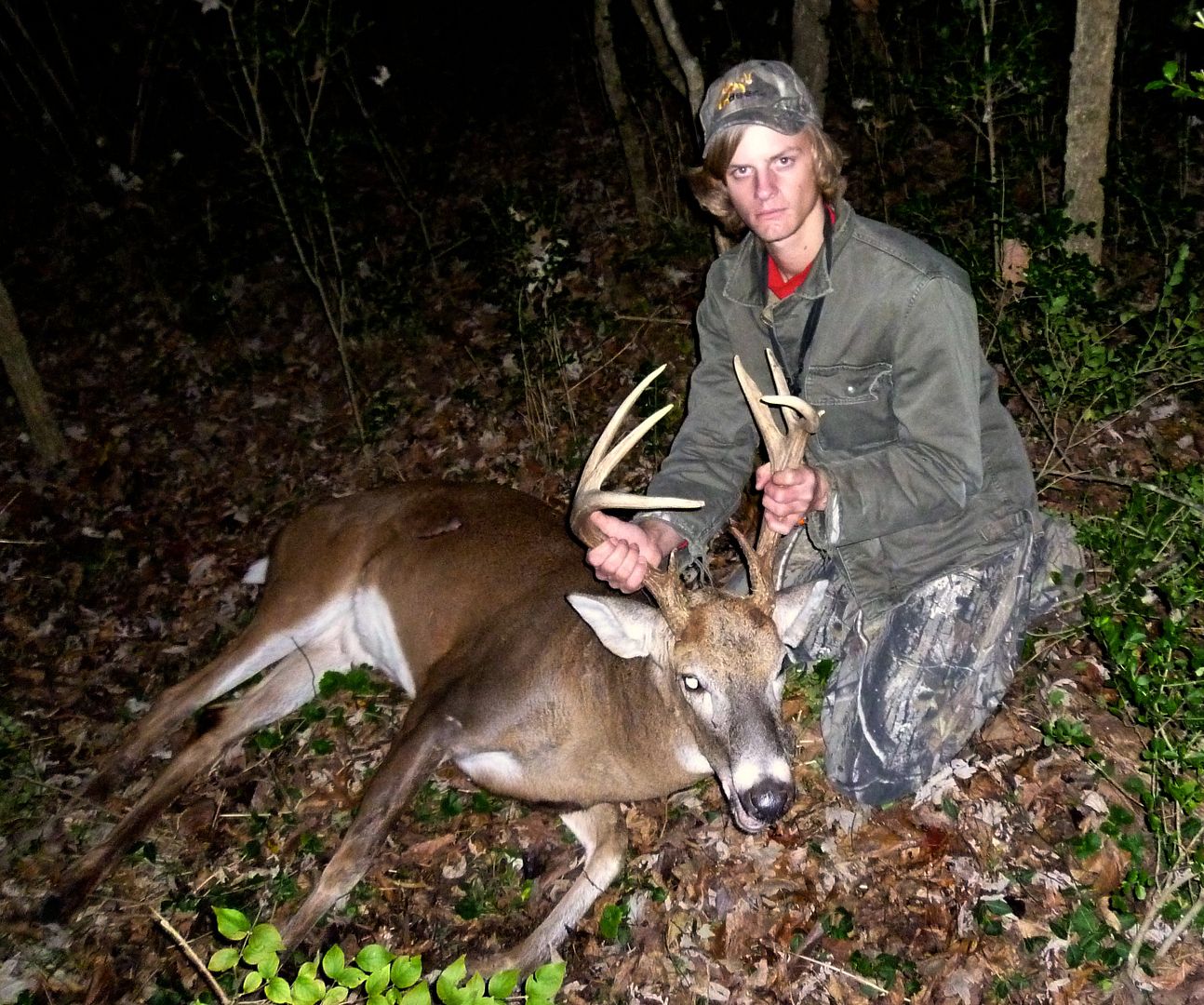 November 17, gun opener



December 2, Williamsport draw hunt



December 28, gun



January 5, bow, in my backyard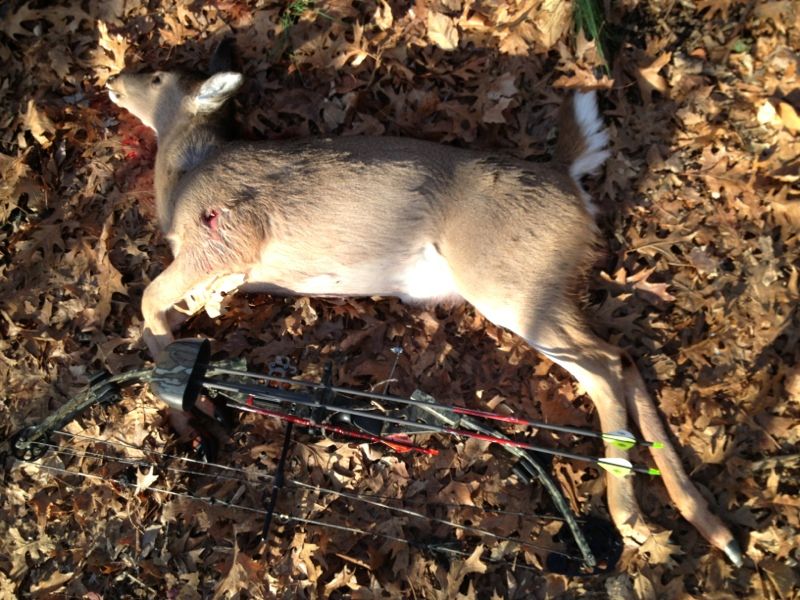 If you have good internet connection then watch the video in HD (bottom right gear-shaped button for those who don't use youtube much) and full screen is best. I took most of the video in HD and it took over 8 hours to upload


CLICK HERE FOR VIDEO

19 minutes of the better footage I took in the woods, including most of my kills... hope you enjoy

Been a good season for me, and now as always, I got some shed hunting to look forward to before I start poking around for morels and then listening to turkeys gobble on the roost...

_________________________

>>>------------------>