Whew... long day of making sausage. We did several pounds of Italian and Chorizo sausage. I didn't document the chorizo, but here's how we did the Italian.

Sausage casings: Use all natural casings. The fibrous one are junk. Also, don't buy you casings from Bass Pro etc. I have had problems with their casings tearing very easily. I'm not sure, may they set on the shelves too long or something. I get mine from a local meat market.

Pork fat: We used pork fat back from Newman farms which is heritage Berkshire pork raised 100% outdoors on pastures. I get this at the Farmer's market in the summer and freeze it until needed.

Seasonings: Use the freshest seasonings possible. Seasonings that sit on your shelf for months and months or even years, tend to turn into sawdust, especially after you freeze them.

Step 1: Grind your venison

Step 2: Grind the pork fat



Step 3: Blend the fat and venison. I do this buy sight, basically eyeball a 3-1 ration of venison to fat.




Step 4: Season.



I used the following:

Roasted Fennel (very important. You'll have to roast it yourself)
Red pepper
Salt
Italian Herb
Cayenne
Anise Seed
Roasted Garlic Paprika
Red Wine Vinegar

Other items you could also use:
Onion
Red Wine
Mace
Anything else that sounds good.

Be very generous with the quantities. You'll want a skillet going and make sample patties until you reach the desired flavor profile.

Step 4: Stuff the casings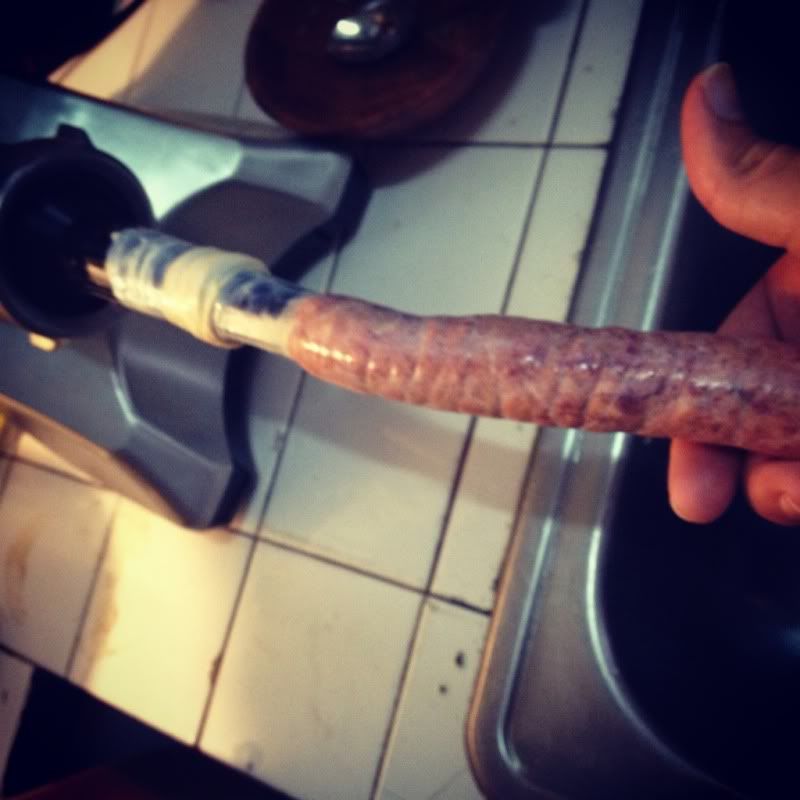 Step 5: Twist at desired intervals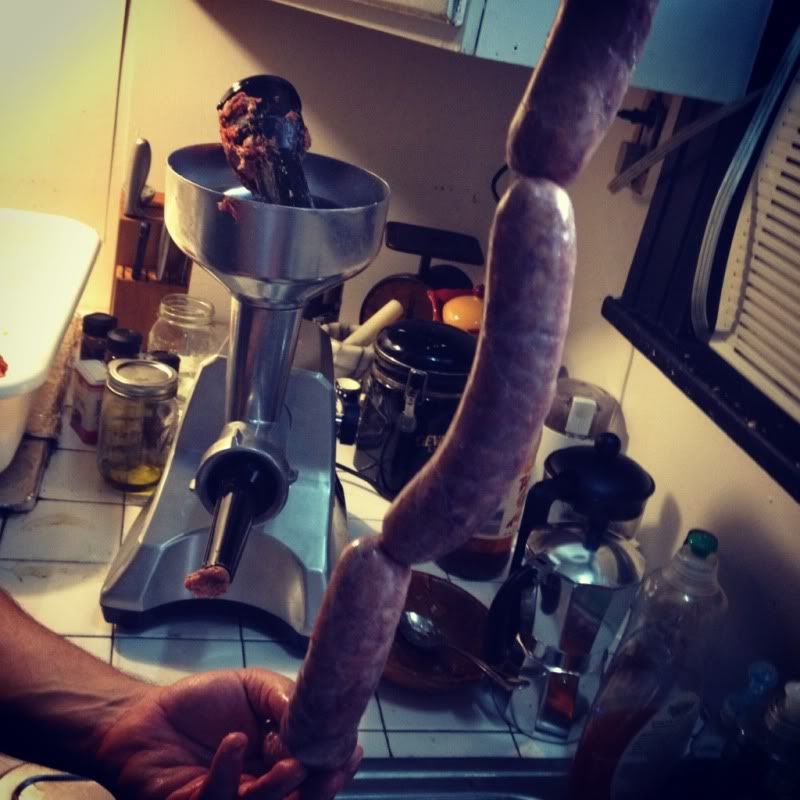 Step 6: Eat and enjoy!

_________________________
It doesn't have to be fun to be fun.
Wild & crazy, can't be stopped. Only the strong will survive.
Keep your knife sharp and your skillet greasy.
http://www.GoCarnivore.com