Great day in the woods!! (Aren't they all?) Today was supposed to be my fiancee's first shot at a deer...The Good Lord decided otherwise though and brought the deer on my side of the stand...so, me and TNNewgirl were sitting in the stand, and at about 8:10 2 does come flying past us on my stand..."Meah...MEAH!!!", they were NOT stopping...lol..I figured something was chasing them...sure enough, about 75 yards behind them with nose to the ground..."MEAH!!" He stopped at about 30 yards...quick shot to the shoulder, he ran about 50 yards and I heard him pile up. So, for the first time in 20 years, I got this little guy to get the buck monkey off my back...more meat for the freezer!!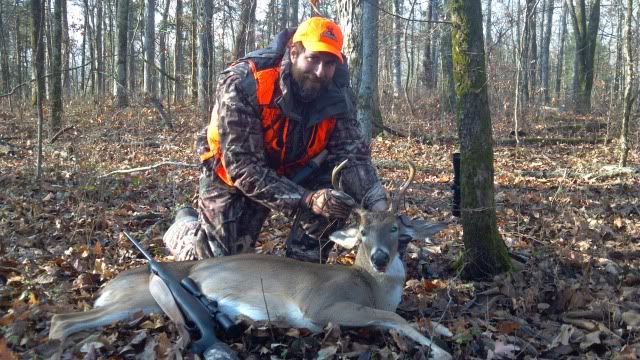 TNNewgirl


7 point with 2 small stickers on back of one antler.


Found nice mushroomed bullet just inside skin on opposite side. First non pass-through I've ever had, but it hit shoulder and a rib bone. Remington Core-lokt in .308.


And after skinning and quartering...


Great day, sorry for all pics and long read, but I'm really happy today!!

_________________________
There's nothing common about common sense anymore!