I had a roller coaster ride with this fellar this weekend. I hunted a stand over looking a major crossing on a gravel logging road from a big thicket to some drainage funnels in some cutover. I had been getting pics of good bucks using a small putting green sized food plot we put in on top of one of the cutover ridges. Friday morning this buck comes up out of the holler in the cutover and stops in the road at 130 yds for a second and I scope him and decide I want to kill him. I shoot and he just stands there and looks around and then trots off as I chamber another round. Frustrated, I got down after not seeing another deer that morning and go to check my zero. At 100 yds, I was barely nicking the bottom right corner of a paper plate. Got her dialed in and headed for the evening hunt in another stand. Seen a big doe and her piebald fawn from this year that we have been seeing all summer. They fed on up a ridge and out of sight and that was all I saw for the evening.

Saturday morning gets here and I wake up seeing a bit of light peeking thru the curtains in the camper. Oh No! My alarm never went off. It was 6:01. I threw my clothes on, jumped on the atv and made it to my stand and settled by 6:40, 35 minutes after shooting light. No activity at all and then as I put my binos down from glassing the cutover, I look down and catch the back half of a deer crossing the road on the same exact trail I shot and missed the buck on Friday. The deer was heading down into the cutover holler and I could make out the tips of his rack. I grunt trying to stop the deer and he never checks up and goes out of sight. I let out 2-3 louder grunts and catch movement and he trots up out of the holler to the top of the ridge in the cutover and stops and looks my way. I scope him and realize it's the same buck that I missed yesterday and right as he turned to start walking back down into the holler, I shot and he dropped right there. He was by himself and the only deer I saw that morning. He seemed to be on a mission to get from Point A to Point B. Hind legs were soaked from his glands to his hoofs and stunk something bad.

10 pt - Field Dressed 150 lbs
Rem 700 .270
Leupold vx-1 3x9x40
Hornady 140 gr BTSP Interlock
150 yds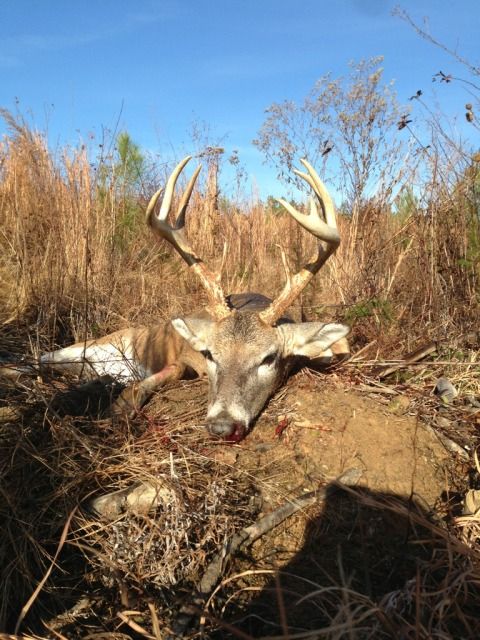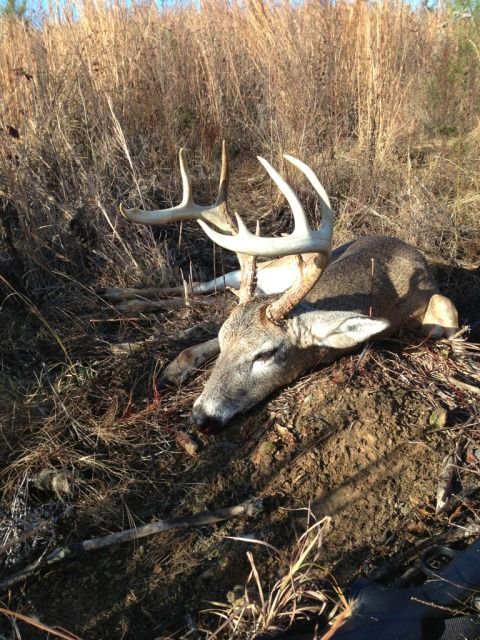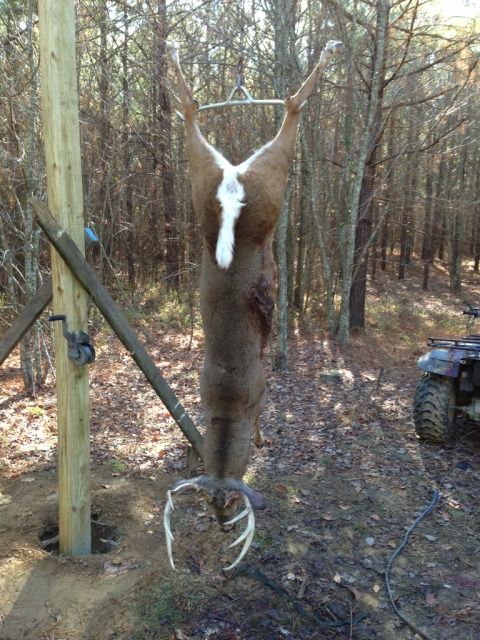 _________________________
I'd rather be judged by 12, than carried by 6.

Pretty women make us buy beer...........Ugly women make us drink beer!