I was blessed this morning with a nice opening day Meigs County deer. The morning was interesting and I had seen 5 does, 9 turkeys, a mink and a bird perched on the end of my muzzleloader but got much more interesting when a doe walked into the far end of the field. A moment later this guy walked into the field following her. He stopped for a moment as I got my rifle up and then when I put the scope on him took another couple of steps and stopped again broadside. I saw the height of the rack and didn't have to think long. It was a Savage muzzleloader and the shot was 200-210 yards. He ran about 80 yards down the field through some native grasses and I never saw him come out of the other side of the field. While watching I saw the grass shaking in the middle of the field and hoped he was down. I walked down and found blood in a cut where a bushhog had been through the field and he was only 5 yards off the cut lying dead. Bullet was a Hornady 250SST and gave a complete pass through both lungs but a little farther back than I had anticipated.......windage or deer took a step I don't know. It's my personal best. I'm a happy camper at this point.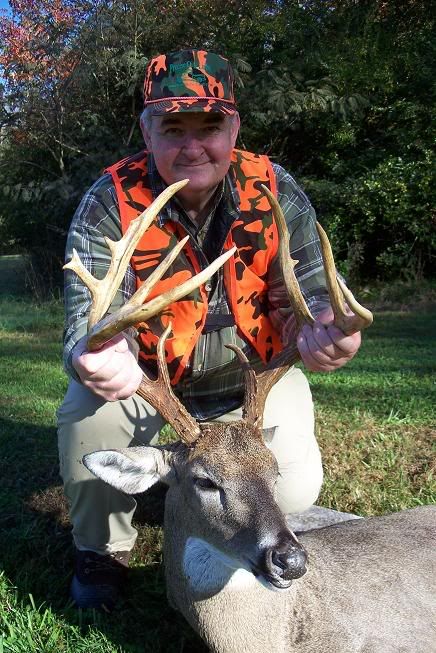 _________________________
Recipient of the Coveted Senior Discount!